Resourcing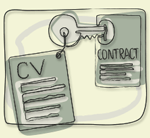 At Sherrards Resourcing we focus on permanent staff solutions across a broad range of job roles including marketing, customer services, finance, logistics and administration. We also have a specialist, experienced HR division with access and facilities to interview and conduct meetings throughout the UK. We operate nationally and offer a wide range of services to clients looking to recruit employees at all levels for your organisation.
We appreciate the challenges organisations face when needing to recruit in different markets. That's why we offer much more than just a CV search; we provide one-to-one support and guidance and our motivation is to find the perfect candidate our clients.
It is vital we get to know our clients, understand their business and what type of skills and experience they need and that's what we strive for each and every day.
A client recently sent us the following testimonial;
"The service I have received from Sherrards Resourcing over the last few months has been excellent. They very quickly gained an understanding of our requirements and took the time to understand how we work. They don't bombard me with calls and are now the first company I contact when I have a recruitment need."
We work to the highest standards and provide a professional and honest service with the aim of building long-term relationships.
Who we are
At Sherrards Resourcing we focus on permanent staff solutions across a broad range of job roles including office management roles, purchasing and logistics, marketing, customer services and administration. We also have an experienced, specialist HR division and can, if required, source candidates for contract and interim positions.
As a part of our HR division we recruit in the following areas – HR Managers, Business Partners and Directors, Learning and Development Managers, many Occupational Health roles and roles in Talent Acquisition and Recruitment.
Sherrards Resourcing is the resourcing arm of Sherrards Employment Law and was developed from client demand, as many clients turned to Sherrards for help in sourcing candidates for their organisations. We have an extensive network of clients and industry contacts and keep up-to-date with the constantly changing and diverse marketplace.
Clients
In order for us to successfully recruit for you it is essential we understand your organisation well.  We need to understand what your business does, what skills you need, how they fit into the organisation and department and where the business plans to be in the future.  So why choose Sherrards?
We take time to take a thorough and comprehensive job description and person specification where we establish not only the skills and experience you require but what type of person will thrive in the position
We won't inundate you with CVs, just a shortlist of candidates with whom we have conducted in-depth interviews, who have the skills you have asked for and who will add value to your business
Every candidate you receive will have given us their permission to submit their CV as we will have spoken to them at length about your opportunity to ensure they are happy and excited about the position
Under no circumstances will you receive a candidate's CV without a thorough interview being conducted, employment checks made and their permission to submit their details given
We are regulated and are a member of the REC and work to the highest professional standards
It is our policy not to seek candidates from clients we work with
Sherrards Resourcing has a highly skilled and experienced team to manage your recruitment project and we understand that, whilst the technology available to recruiters today has enabled very sophisticated resourcing strategies to be used, we are a business that looks after and builds relationships with people
We get excellent feedback from our clients. One recently said;"Sherrards Resourcing are very good, helpful, professional, friendly, efficient and always available to deal with issues…..every aspect of the service has been of the highest standard. It's a pleasure working with them."
Contact us today to find out how we can help you if you are looking to recruit someone for your organisation.  Send an e mail to enquiries@sherrardsresourcing.com or call Lorraine Sherrard, Director and founder of Sherrards Resourcing on 01273 834120.