Personnel Groups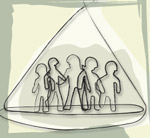 If you're a Human Resources professional, why not join one of the Personnel Groups? They're a great way to network and to find out about developments in Human Resources.
Sherrards is involved with the following groups:
Sussex HR Platform – for all HR professionals in the Sussex area.
Heathrow Personnel Group – for all HR professionals in aviation-related organisations.
Both Personnel Groups meet several times a year to network and listen to a talk on a Human Resources hot topic. Membership and meetings are completely free of charge.
If you would like more information on the Sussex HR Platform or wish to register for our next event please visit www.sussexhrplatform.com
The Personnel Groups are not-for-profit organisations. Administration costs are covered by Sherrards for both groups.
If you would like to know more about the Heathrow Personnel Group please email sarah@sherrardslaw.com