03.01.2019
Compulsory Reporting on Ethnicity Pay Gap?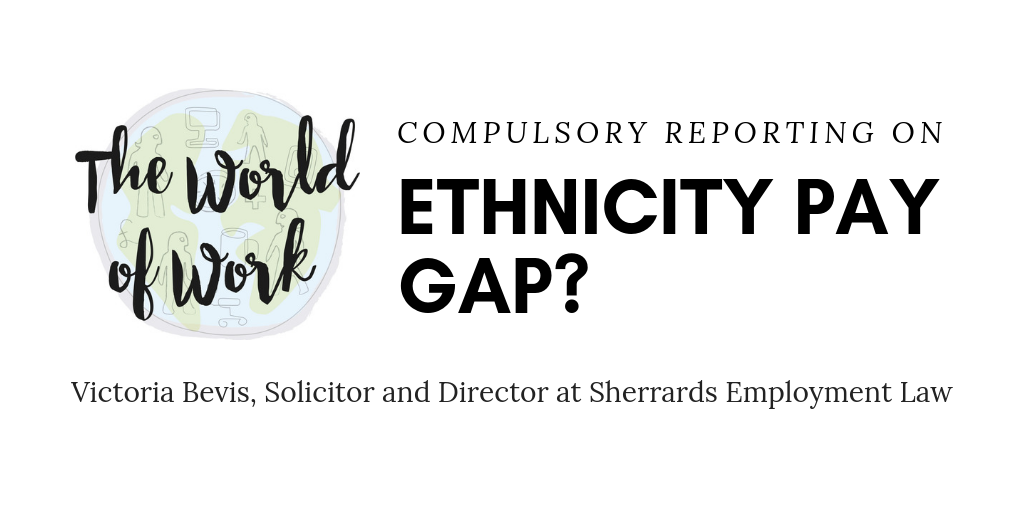 The Business Case for Pay Gap Reporting
Employers are increasingly recognising that recruiting from the widest pool of talent possible is good for business, in particular it promotes:
·        Innovation & Creativity: A diverse group of people will bring a broader range of perspectives to brainstorming and decision making processes and better represent the market and customer base you sell to; and
·        Inclusive Culture People Want to Work in: Better retention rates, reduced absenteeism, increased productivity, loyalty & motivation
However, some groups remain underrepresented in the employment market; this is not only a social justice issue, it means a loss of skills and talent to the UK economy and employers.  With this in mind, the Government is currently consulting over proposals to require employers to publish their ethnicity pay gap i.e. how people from different ethnic backgrounds are paid within their organisation. The consultation, which is open until January 2019, asks employers what type of ethnicity pay information employers should report and whether employers that identify disparities in how white and black, Asian and ethnic minority employees are paid should be required to publish an action plan, setting out the measures they will take to tackle this.
Equality & Diversity In Practice
What steps can employers take now to avoiding the possibility of negative publicity that could surround having to publish an embarrassing ethnicity pay gap? Well, achieving equality and diversity is a huge 'nut to crack' and a successful strategy will need to cover many different angles, so good quality training, particularly for managers, is key.  Understanding the legal framework around equality and discrimination law is one piece of the jigsaw, but the right training has to really show managers the practical applications to the workplace – what they can do, what they should do and where the legal pitfalls lie. Managers also need to understand the importance of creating the right culture at work and take a zero tolerance approach to bullying and harassment (without feeling that nobody can enjoy a joke with colleagues anymore!).  Commitment to cultural change needs to come from the top.
Rounded and practical equality and diversity training will also seek to tackle issues such as unconscious bias. In brief, unconscious bias occurs when our brain uses short-cuts to make decisions about people without us even realising it (our brains process huge amounts of information in this way – think about when you do something routine and it feels like you are on 'auto-pilot').  Research shows us that people tend to unconsciously favour others who share their own characteristics e.g. ethnicity, social or educational background. Once understood, organisations and individuals alike can take steps to mitigate the role of unconscious bias in their decision making processes. For example, evidence shows that a person's name can affect their success within the recruitment process. The solution? "name-blind recruitment" – where  employers remove information such as name, gender, and age from application forms before  they are shared with the decision maker, thus helping to overcome possible discrimination or unconscious bias. The wording used in job advertisements has also been shown to have an effect on the pool of candidates likely to apply for a role and should be considered.
In summary, whilst some may see mandatory ethnicity pay gap reporting as yet another burden on business, others will understand the business case for improving equality and diversity within their own organisation and hopefully take the opportunity to start making positive changes before any public reporting regime comes in to force.
Sherrards offer in-house Equality, Diversity and Inclusion training. With engaging and practical content the course highlights an area of increasing importance for all organisations.
For more information on an excellent New Year offer on Equality, Diversity and Inclusion training from Sherrards, call us on 01273 834120.
Victoria is a Director of Sherrards and has practised as a specialist employment law solicitor since joining the firm in 2009. Regarded by clients as being both practical and approachable, Victoria has a strong focus on reaching the best commercial outcome for our clients whilst ensuring that her understanding of their individual ethos and values are reflected in her advice.
In their most recent publication The Legal 500 – one of the leading directories of the legal profession – state that Victoria is "well regarded for her clarity of explanation, patience, tenacity and professional manner."
Back to Blogs Page